Display
Arctic whaling expedition makes Man Booker Prize 2016 longlist
28 Jul 2016
Dr Ian McGurie's thriller chronicling a 19th-century ill-fated whaling expedition to the Arctic with a killer on-board the ship is among the nominations for the Man Booker Prize 2016 longlist.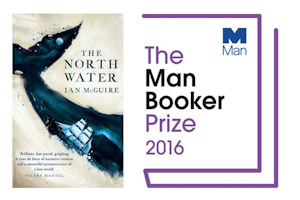 The North Water, published by Scribner UK, is Dr McGuire's second novel and was launched in the UK at the University of Manchester's Martin Harris Centre in February 2016.

Dr McGuire, who studied at the University, is one of the co-directors of Manchester's Centre for New Writing and his stories have also been published in Chicago Review, The Paris Review and elsewhere.

The Hull-born started working as a lecturer in American literature and then in creative writing.

The authors longlisted for the £50,000 prize and will be cut down to a final six on September 13 before the winner is announced on October 25.
Notes for editors
The University of Manchester, a member of the prestigious Russell Group, is the UK's largest single-site university with 38,600 students. It has 20 academic schools and hundreds of specialist research groups undertaking pioneering, multi-disciplinary teaching and research of worldwide significance. The University is one of the country's major research institutions, rated fifth in the UK in terms of 'research power' (REF 2014), and has had no fewer than 25 Nobel laureates either work or study there. The University had an annual income of £1 billion in 2014/15. Visit www.manchester.ac.uk

Media enquiries:

Kath Paddison/Jordan Kenny
Media Relations Officers – Faculty of Humanities
Tel: +44 (0)161 275 0790 or +44 (0)161 275 8257
Mob: +44 (0)7990 550050 or +44 (0)7789948783
E: kath.paddison@manchester.ac.uk or Jordan.kenny@manchester.ac.uk